The Crassula ovata 'Gandalf' is a relatively new Jade Plant variety. In fact, it is a hybrid of Crassula ovata 'Gollum' and the small form known as Crassula ovata 'Minor'. Plants are compact and somewhat dwarf, compared to the typical form. 
Bright green leaves are smaller and broader than Gollum Jade. However, they have the same tubular, spoon-shaped leaves. Also, gorgeous, scarlet red margins appear with maturity and full sun exposure. 
This is a small, slow-growing, low maintenance plant that is perfect for novice gardeners. In fact, it is ideal for rock gardens and containers. Additionally, it will also be quite happy on a well-lit window sill.
Filtered / Partial Sun, Bright Indoor Light
Minimum 30°F (−1.1°C) to 50°F (10°C)
Well-draining soil, use a container with good drainage
Up to 3 feet (90 cm) tall and 2 feet (60 cm) wide
Gandalf Jade, Crassula Gandalf, Gandalf Jade Plant
Clusters of small, star-like, white or pinkish-white flowers, with pink stamens bloom in winter
Generally toxic to dogs and cats
Gandalf Jade plant is a fairly slow growing succulent. Definitely slower than the common Crassula Ovata Jade Plant. Growing up to 2 feet (60 cm) tall and around 2 feet (60 cm) wide at maturity. 
Succulents, including Crassula, store water in the plump leaves to survive drought. Gandalf Jade Plants do not have very high watering needs. Therefore, replicate their natural habitat by giving your plant a deep watering. Then, let the soil dry out completely before watering again.
Crassula Gandalf plants need very little water during the winter. Remember, as with most succulents, less is more! If in doubt, be sure to use a moisture meter. Indeed inexpensive and really helped me when I was new to succulents. 
Watering with distilled or filtered water may be a good idea if you see brown or white tips on the ends of the leaves. Depending on your tap water, it may have high salt content. Also, be sure to avoid getting the leaves wet. Not only can this cause sunburn in hot direct sun. But, it can also cause leaves to rot in humid conditions.
Crassula ovata Gandalf has moderate light needs. Plants will do well in bright indoor light, partial/filtered sun, or partial shade. Also, Crassula Gandalf tolerates some full sun once acclimated.
Gandalf Jade can tolerate some partial shade. However, you will see the best growth and coloration in bright sun.
Compliment your Crassula Gandalf Jade with these varieties:
SEE MORE HOUSEPLANT TIPS:
Want to learn more about plants? Check out our videos!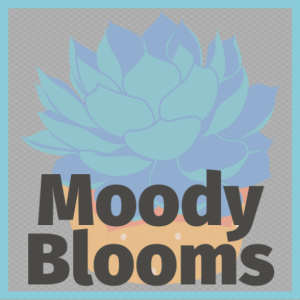 Join our email mailing list
Sign up for the MoodyBloomsCo.com blog alerts and once subscribed, I will send you a notification when a new post has been made.
Shop our favorite products!
Support Moody Blooms by using the affiliate links to shop. As a result, we receive a small commission at no extra cost to you. Additionally, this helps us so we can continue to create helpful free content. Thank you so much for your support. We appreciate it.