The Crassula ovata 'Gollum' is a much-loved Jade Plant variety. In warm climates it can grow outdoors as a small shrub. But, it is also a funky looking, low- maintenance indoor plant. Specifically, because it also tolerates low-light conditions. 
I love it because it adds texture and height to my succulent arrangements. Definitely a great filler plant in flower beds or pots. Also commonly called ET Fingers or Shrek's Ears. 
When grown indoors, Gollum Jade stays small. Woody branches make this a favorite among bonsai growers. 'Gollum' leaves are tubular and elongated. Similarly shaped to trumpets or fingers. The concave leaf tips looked puckered.  
Hobbit Jade vs Gollum Jade
Crassula ovata 'Gollum' and Crassula ovata 'Hobbit' Jade are commonly mistaken for one another. Often confused in literature, by nurseries, and are often used interchangeably. They have some similar features and both names are taken from JRR Tolkien's writings.
In fact, they both share many common names. For example: Spoon jade, Gollum jade, Hobbit Jade, Ogre Ears, Shrek's Ears, ET's fingers, Finger jade, Trumpet jade.  Furthermore, they both have pretty similar care and maintenance.
Filtered / Partial Sun, Bright Indoor Light
Minimum 30°F (−1.1°C) to 50°F (10°C)
Well-draining soil, use a container with good drainage
Up to 3 feet (90 cm) tall and 2 feet (60 cm) wide
Spoon jade, Gollum Jade, Hobbit Jade, Ogre Ears Succulent, Shrek Ear Succulent, ET's fingers, Finger jade, Organ Pipe Jade Plant, Trumpet jade, Tube Succulent, Gollum Jade Succulent, Gollum Crassula, ET Finger Succulent, Ogre Ear Jade, Money Plant
Clusters of small, star-like, white or pinkish-white flowers, with pink stamens bloom in winter
Generally toxic to dogs and cats
Gollum Jade plant is a fairly slow growing succulent. Definitely slower than the common Crassula Ovata Jade Plant. Growing up to 3 feet (90 cm) tall and around 2 feet (60 cm) wide at maturity. Additionally, leaves can grow up to 2 inches long.
This hard to kill succulent is a great variety for beginner plant parents. Gollum Jade plants make a charming addition to any home or office. Or, outside in a flowerbed or pot. Furthermore, Crassula Gollum Jade Plants are typically dormant in the winter months.
Watch our Crassula ovata GOLLUM vs HOBBIT Jade Video
Succulents, including Crassula, store water in the plump leaves to survive drought. Gollum Jade Plants do not have very high watering needs. Therefore, replicate their natural habitat by giving your plant a deep watering. Then, let the soil dry out completely before watering again.
Gollum Jade plants need minimal water during the winter. Remember, as with most succulents, less is more! If in doubt, be sure to use a moisture meter. Indeed inexpensive and really helped me when I was new to succulents. 
Watering with distilled or filtered water may be a good idea if you see brown or white tips on the ends of the leaves. Depending on your tap water, it may have high salt content. Also, be sure to avoid getting the leaves wet. Not only can this cause sunburn in hot direct sun. But, it can also cause leaves to rot in humid conditions.
Crassula Ovata Gollum Jade has moderate light needs. Your plant will do well in filtered light, partial sun or bright indoor light. Also, Gollum Jade plants tolerate some full sun once acclimated.
Gollum Jade can tolerate some partial shade. However, you will see the best growth and coloration in bright sun.
Crassula Ovata Gollum FAQ's
What are the white specks on my Crassula ovata Gollum plant?
White specks are mineral deposits. These are caused by using water with high salt content. They don't damage your plant at all. However, if you don't like the look of them you can wipe them off. To prevent them from continuing to pop up you can water with filtered or distilled water.
Why is there white fuzz on my Gollum Jade leaves? 
powdery mildew could also be to blame. Growth of white powdery mildew can be caused by low light conditions, low air circulation, cool temperatures and high humidity. Remedy this by spraying the leaves with a mixture of 1 tablespoon baking soda + 1 teaspoon of non-detergent soap + 1 gallon of water.
Why are there black spots or black dots on my Gollum Jade leaves?
Black spots on your Gollum Jade plants could be from injury or disease. In fact, the most common reason for black spots is because of excess humidity or overwatering. Basically the plant is getting too much moisture. Specifically either in the air or in the soil. Often this happens in winter when overwatering is more common. Crassulas go into dormancy when light levels are low. Reducing water during the colder months is important to maintaining Jade Plant health.
Why are my Gollum Jade plant leaves shriveled?
Jade plants store water in their leaves. In fact, wrinkly or shriveled Jade leaves are a sign your plant is not getting enough water. Give it a good soak and your Gollum Jade should perk up within a day or two.
Why is my Crassula ovata Gollum dropping leaves?
When Jade plants drop leaves excessively, it may be from lack of light, overwatering or cold damage. Definitely move your Gollum plant to a sunnier spot if it is in the shade. If light isn't your issue it may be getting too much water. Leaves may get slightly mushy and fall off with even the slightest touch. Only water the soil when it is thoroughly dry.
If it was recently left out in temperatures that were very cold, this may be the culprit. Unfortunately, there isn't anything you can do about the dead leaves from cold damage. Definitely remove the unhealthy leaves so nutrients can focus on new growth.
After pruning, make sure it gets a lot of sunlight. Rotate at each watering to make sure all the sides of your Jade get even amounts of light. Hold off on watering until the leaves slightly start to pucker.
Why are my Gollum leaves yellow?
If there are only one or two yellow leaves on your Gollum then it isn't cause for concern. Although, if there are many yellow leaves there is a definite problem. Most likely it is from overwatering. Definitely check the root health and hold off on watering until your soil is completely dry.
Why is my Gollum Jade stem turning black?
When the stem is black and spreads up the stem is from root rot. Chop above the rotted portion of the stem and propagate the cutting. Follow the above propagation steps. Definitely make sure the new cutting is placed in well-draining soil.
Why is my Crassula ovata Gollum growing so slow?
Gollum Jade plants are slower growers than the more common Crassula ovata Jade plants. However, if it is growing slower than normal it may be from lack of sunlight, compacted soil, or lack of nutrients. Once you identify the cause either move to a sunnier spot, replace with fresh soil, or add some fertilizer. 
Why are my Crassula ovata Gollum leaves not propagating?
In order for a succulent leaf to properly propagate it must be healthy and a COMPLETELY full leaf. If any portion of the leaf is left on the stem the odds of propagating are slim. Leaves that drop due to overwatering usually rot pretty quickly. Keep in mind Gollum leaves are some of the harder succulents to propagate. 
Why is my Gollum Jade drooping? It is growing downward and bending.
Plants bend or grow downward if there is a lack of light. Limbs don't actually droop because they are heavy (unless it is from root rot). Rather, because the branches and/or stems aren't thick and strong enough to hold their weight. Many Jade plants are quite large and grow upright. Lack of sun is definitely the problem.
Compliment your Gollum Jade with these varieties:
SEE MORE HOUSEPLANT TIPS:
Want to learn more about plants? Check out our videos!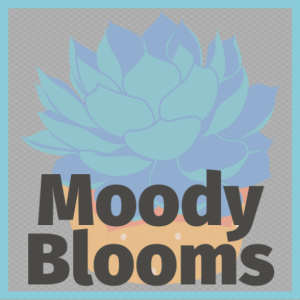 Join our email mailing list
Sign up for the MoodyBloomsCo.com blog alerts and once subscribed, I will send you a notification when a new post has been made.
Shop our favorite products!
Support Moody Blooms by using the affiliate links to shop. As a result, we receive a small commission at no extra cost to you. Additionally, this helps us so we can continue to create helpful free content. Thank you so much for your support. We appreciate it.