Lets review 10 flowering plants that are better than a bouquet. Don't get me wrong… flower bouquets are beautiful. I am a sucker for just about any kind of flower. But lets review some of my favorite flowering plants. They will last much longer than a bouquet and will be sure to bring a smile. Indeed perfect for birthdays, anniversaries, Valentine's Day or Mother's Day.
Saintpaulia African Violet
African violets are a popular flowering houseplants. These beauties bloom year-round making them a low-maintenance favorite. They do best in containers that allow for bottom watering. Avoid watering the top leaves, and let the soil dry between waterings. Leaves will spot, turn brown, and die if cold water gets on them. Remove spent leaves from the bottom as they age. While African violets are not demanding plants, they sometimes flourish for years and then die without warning.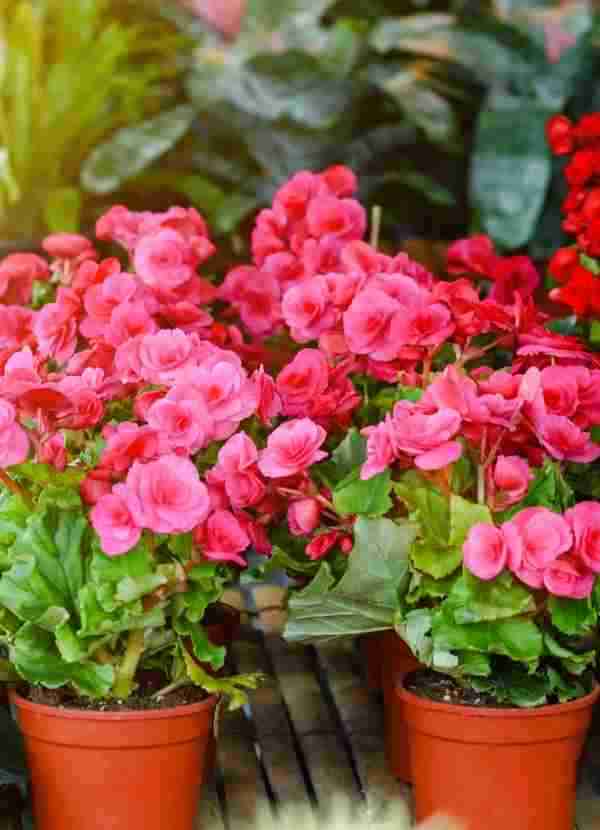 Excellent outdoor plants and many varieties make stunning houseplants. In good conditions they can bloom continuously. Bright locations free from drafts are perfect spots for blooming. Rex begonia varieties do not even need to be in bloom to be colorful. Look for fibrous-rooted types like wax-leafed, angel-wing, and hairy-leaved varieties.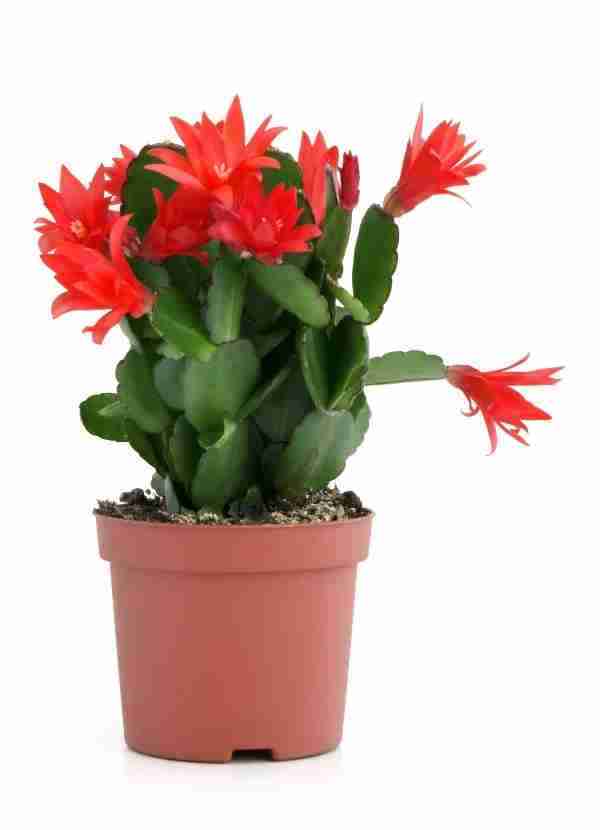 Christmas Cactus (Schlumbergera x buckleyi)
The Christmas cactus, also known as Easter Cactus is a long-lived bloomer that thrives on neglect. It blooms at Christmas and occasionally blooms at Easter. Propagates easily from cuttings. Stem tips produce flowers with petals of different lengths and a color palette in hues of pinks to reds. Easter cactus does well when placed near a window. However, do not let the pads touch a cold window or the plant can suffer cold damage. Although Christmas cactus needs well-draining soil, it also needs high humidity.
Peace Lily (Spathiphyllum)
The peace lily or spathiphyllum, is one my favorite flowering houseplants. Of all the flowering house plants, Peace Lily care is probably the easiest. It is so low-maintenance. A great houseplant for the plant challenged or as a housewarming gift. In fact, Spathiphyllum tolerates average indoor conditions better than many house plants. When picking out a new Peace lily to purchase, you want to find a plant without brown tips, brown leaves, no yellow leaves, and if possible, blooms that are present and look healthy.
Buy it: Amazon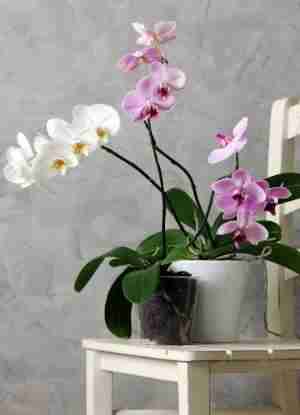 Orchids have been known as diva plants. But with proper care, they are actually pretty easy to grow. They actually make excellent flowering houseplants. Blooms can last for months. Good Phalaenopsis care requires just some basic knowledge about orchids and how they grow.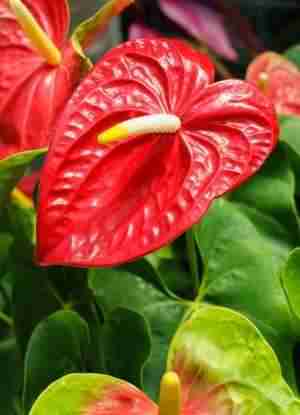 Of course red represents the universal color of love. The exotic looking, red Anthurium plant is perfect for that special someone in your life. Stunning waxy bright blooms accent the beautiful glossy green leaves
Anthuriums (pronounced An-THUR-ee-um) are also known as Flamingo Plant, Flamingo Flowers, Flamingo Lily, Painter's Pallet, and Tailflower. Great low light houseplants.
The genus name, Anthurium, is derived from the Greek words anthos meaning "flower," and oura, meaning "tail", referring to the tail-like spadix.
Anthuriums are not the most inexpensive houseplants you can purchase, especially when compared with the other similar sized indoor plants. One of the main reasons is that Anthurium does take some time to grow and flourish. Their striking flowers can last for months which adds to their value. They can also bloom year round with proper care which is another huge bonus.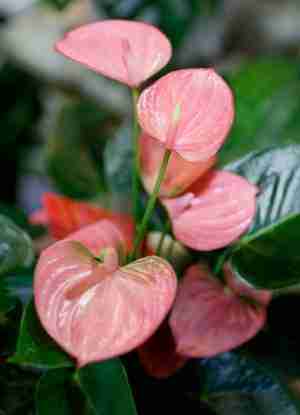 Clearly pink is the go to color for your galantine! The pink anthurium is the perfect gift for any special day!
The Bromeliad Aechmea Pink is a unique and popular plant. Stunning intricate blooms are the perfect touch for making your loved ones special day.
Aechmea bromeliads are probably the most popular houseplant bromeliads on the market today. The stately plants generally have wide, strappy green leaves that sometimes appear to be lightly powdered. Pink blooms rise above the plant like a spiky crown, Smaller purple flowers emerge in time. It's not unusual for an aechmea flower spike to last for months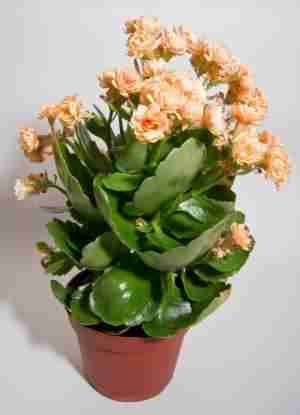 The Kalanchoe Blossfeldiana is also known as Florist Kalanchoe, supermarket kalanchoe or flaming katy. A long-flowering perennial succulent that thrives in warmer climates. 60° to 85° weather is best. Bring indoors when temperatures cool. Even a light freeze can kill the plant. This blooming beauty is sure to brighten anyone's day.
An azalea topiary is classic and cheery. This charming beauty is perfect for the traditionalist in your life.
Potted azalea topiaries have a compact, dense, and a rounded shape. In some cases, the stem is tall and braided. They prefer cooler temperatures, from 55° to 70° F, and bright indirect light. It's time to water your Azalea again when the top ½" of the potting mix feels dry to the touch.
Remove wilted flowers to help the azalea maintain its shape and produce new blooms. They're most often grown indoors as houseplants, but can be planted outdoors in hardiness zones 6 through 8.
Buy it: Azalea Topiary
Have a flowering plant that wasn't mentioned, that you love? Leave us a comment below!
Thanks so much for stopping by.
Click below to check out our YouTube channel for more plant tips.
Soft succulents are some of the cutest around. Some of my favorite succulents are fuzzy echeveria…
Are you having a hard time keeping these beautiful succulents alive? Let's review the 5 ways you are killing your Jade.
Shop our favorite products!
Join our email mailing list
Sign up for the MoodyBloomsCo.com blog alerts and once subscribed, I will send you a notification when a new post has been made.
Support Moody Blooms by using the affiliate links to shop. As an Amazon Associate I earn from qualifying purchases. Additionally, we receive a small commission (at no extra cost to you). Therefore, we can continue to create helpful free content. Thank you, we appreciate it!