This succulent has large rosettes of waxy, variegated leaves. Green, yellow, and creamy white foliage, develop pink to coppery red tips in full sun. Look for pale yellow flowers from mid-winter to early spring on mature plants. Originally from the Canary Islands, this evergreen succulent plant is also known as Copper Pinwheel. Thick stems can reach up to 18 inches (46 cm) tall. Adds dramatic texture to succulent arrangements, rock gardens and dry borders. A frost-tender succulent that thrives in sunny coastal climates. Let's review Aeonium Sunburst care.
18″ (46 cm) tall

24″ (61 cm) wide
SEE MORE HOUSEPLANT TIPS: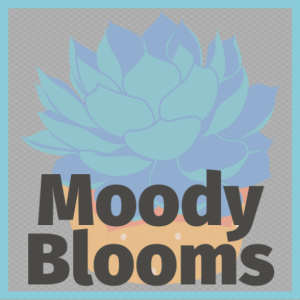 Join our email mailing list
Sign up for the MoodyBloomsCo.com blog alerts and once subscribed, I will send you a notification when a new post has been made.
Support Moody Blooms by using the affiliate links to shop. We receive a small commission (at no extra cost to you) so we can continue to create helpful free content. Thank you, we appreciate it!
Key words:
Aeonium decorum 'Sunburst, Aeonium decorum 'Tricolor', Aeonium Sunburst Care, Aeonium Sunburst, Aeonium arboreum 'Luteovariegatum', Aeonium  'Lemon-Lime', Aeonium 'Starburst', Copper Pinwheel, Tree Aeonium, Tree Houseleek,
Aeonium arboreum var. luteovariegatum