Kalanchoe fedtschenkoi is commonly known as Lavender Scallops. The name of the plant honors botanist Boris Fedtschenkoi and was formerly known as Bryophyllum fedtschenkoi. Native to Madagascar and is a low-growing perennial succulent. Pretty flowers grow from the tips of compact foliage. One of the really cool things about this plant is the way it creates little plant babies on the edges of each leaf.
In the late spring to early summer, look for small bell-shaped flowers. Flowers hang loosely from upright stems. When repotting, take care in handling as the leaves are somewhat brittle & can snap easily. Propagate fedtschenkoi from seeds, cuttings, or plantlets.

Water
Allow the soil to dry out between watering. Requires less water in winter.

Planting
Use caution when replanting as the leaves are a little brittle and may snap when handled.

Propagation
Lavender Scallops can be propagated from seed or stem cuttings. Babies develop on leaf tips.

Soil
Prefers a well draining potting soil. Add pumice or perlite to regular potting soil.

Fertilizer
Feed the plant bi-weekly with a liquid fertilizer throughout the summer months.

Light & Temperature
Prefers full sun to indirect light. Winter hardy in (USDA Zones) hardiness zone 9b or warmer.
The most common names for Bryophyllum fedtschenkoi or Kalanchoe fedtschenkoi are Lavender Scallops, Variegated Lavender Scallops, Scallops, Kalanchoe Stonecrop, South American Air Plant, Gray Sedum, Lavender scallops plant, Amethyst scallop, Calanchoe, or Kalanchoe cat grape.
Kalanchoe fedtschenkoi is pronounced kal-un-KOH-ee fed-tscheng-koh-eye and it gets it's name
fedtschenkoi
in honor of botanist Boris Fedtschenko (1873-1947). Want to learn about other Kalanchoe varieties? Visit our Kalanchoe Gallery here.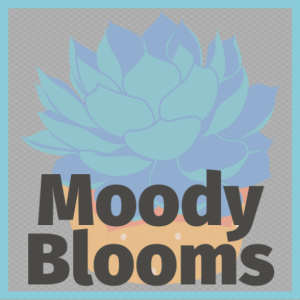 Join our email mailing list
Sign up for the MoodyBloomsCo.com blog alerts and once subscribed, I will send you a notification when a new post has been made.
Support Moody Blooms by using the affiliate links to shop. We receive a small commission (at no extra cost to you) so we can continue to create helpful free content. Thank you, we appreciate it!