Dieffenbachia amoena 'Tropic Snow' is one of the easiest indoor houseplants to grow. It is very popular among indoor house plants. This low maintenance, tropical shrub is also known as Dumb Cane, and thrives in a large range of environments. Tropic Snow adds fun color and texture without flowers. 
Dieffenbachia  amoena 'Tropic Snow' has large, oblong green leaves with creamy-white variegation. 'Tropic Snow' has leaves similar to Dieffenbachia 'Camille', but less consistently cream-colored in the middle. One of the largest dieffenbachia plants, it can grow quite tall at over 6 feet. Looks best in a large pot to make a decorative impact. It prefers more shade than most types of dieffenbachias.
Dieffenbachia Quick Care Guide
It is best to keep them evenly moist, not wet or dry. N
ever allow the plant to stand in water.
Does best under bright, indirect light, but will survive in reduced lighting conditions.
They prefer a little higher humidity in the air.
Performs best in temperatures between 65-85° F
Use a loose, fertile, high organic medium. The growing medium should have good water-holding capacity and be well drained.
dif-fen-bak-ee-uh or
dee-fuhn-
bak
-ee-uh
This plant is toxic if ingested. K
eep away from children and pets.
Find a complete Dieffenbachia care guide here. Learn about propagation, problems and pest, plus learn tips and tricks on how to care for your beautiful dumb cane plant.
 Let us know your favorite thing about your 'Tropic Snow' in the comments below!
Want to learn more about plants? Check out our videos!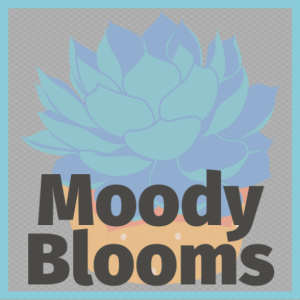 Join our email mailing list
Sign up for the MoodyBloomsCo.com blog alerts and once subscribed, I will send you a notification when a new post has been made.
Support Moody Blooms by using the affiliate links to shop. As an Amazon Associate I earn from qualifying purchases. Additionally, we receive a small commission (at no extra cost to you). Therefore, we can continue to create helpful free content. Thank you, we appreciate it!