Graptopetalum (leatherpetal) is a small genus of the family Crassulaceae. These perennial succulent plants are native to Arizona and Mexico. They grow usually in a rosette with thick waxy leaves and star shaped flowers. There are approximately 20 species in this genus. Similar to
Echeverias
, although generally considered closer to
Sedums
.
Graptopetalum Amethystinum  is commonly called Lavender Pebbles Plant,
Jewel-leaf plant, or Pink Moonstone.
A moon rock look with a powdery coating of farina. Plump round leaves come in shades of lavender, pink, and green.
Graptopetalum superbum
is a stunning blush to lavender rosette that, true to its Latin name, is quite superb. The foliage has a powdery coating of farina (epicuticular wax). This lovely species is native to Jalisco, Mexico and can grow to 5.0″ in diameter.
Graptopetalum paraguayense
is commonly known as Mother of pearl plant or Ghost plant. They
have thick leaves that hold excess moisture so the plant can withstand periods without water. This Graptopetalum has beautiful trailing rosettes, perfect for a hanging pot. When grown in full sun, these Graptopetalums will turn yellow-pink, however in shade it will be bluish-grey.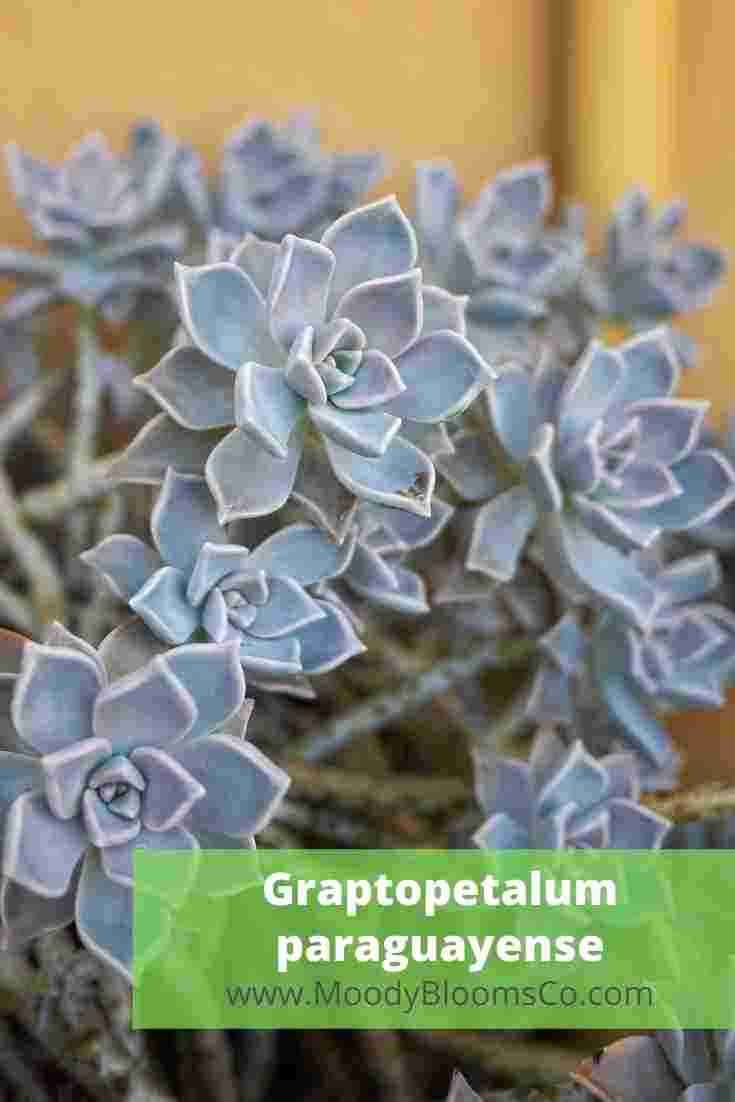 Graptopetalum macdougallii is a plant belonging to the succulent genus Graptopetalum. It is native to Mexico. It grows on shady rocks, or rarely as an epiphyte, at an altitude of 1200 – 2100 meters, geographically isolated from all other Graptopetalum species.
Graptopetalum Pachyphyllum Blue Bean
is a hardy succulent and generally a low maintenance plant. A cute miniature succulent with shrubbing habit that is easy to care for, grow, and propagate. It is one of the few succulents that has a light pleasant fragrance. Little clusters of powdery light blue chubby leaves sprout in clusters on this popular Graptopetalum. Chubby club shaped leaves form clumps of small rosettes. Low-growing and flowers are white-green, banded in dark red. Leaves are silvery bluish green tipped with dark purple in cold weather.
Graptopetalum Varieties
Graptopetalum amethystinum
Graptopetalum bartramii 
Graptopetalum bellum 
Graptopetalum filiferum 
Graptopetalum fruticosum 
Graptopetalum glassii 
Graptopetalum grande 
Graptopetalum macdougallii
Graptopetalum marginatum 
Graptopetalum mendozae 
Graptopetalum 'Murasaki' 
Graptopetalum occidentale
Graptopetalum pachyphyllum
Graptopetalum paraguayense
Graptopetalum paraguayense subsp. bernalense 
Graptopetalum pentandrum 
Graptopetalum 'Purple Delight'
Graptopetalum pusillum 
Graptopetalum rusbyi San Francisco River leatherpetal
Graptopetalum saxifragoides
Graptopetalum saxifragoides var. fariniferum 
Graptopetalum superbum