Graptopetalum (leatherpetal) is a small genus of the family Crassulaceae. Furthermore, these perennial succulents are native to Arizona and Mexico. In fact, they usually grow in a rosette with thick waxy leaves. Additionally, with star shaped flowers. There are over 20 species in this genus. Similar to Echeverias, although generally considered closer to Sedums. The name Graptopetalum comes from the Greek word "graphos" and the Latin word "petalum". Specifically, a direct reference to the specks or markings visible on the plant's flowers.
Amethystinum
Graptopetalum
The Graptopetalum Amethystinum is commonly called Lavender Pebbles Plant, Jewel-leaf plant, or Pink Moonstone. Definitely, a moon rock look with a powdery coating of farina. Additionally ,chubby leaves come in shades of lavender, pink, and green. It should be noted, l
avender or pink leaves are common for new leaves. However, older leaves can mature to shades of green. 
Particularly
slow-growing and unquestionably beautiful. Lavender pebbles grow in rosettes, usually bunching up from individual stems. Furthermore, amethystinum's flowers are star-shaped with special coloration and pattern. Specifically, flowers are usually light-colored near the base. Along with the color ranging from white, cream, or very light yellow. Additionally, tips are usually solid red or bright red. Finally, red specks can also be found at the base of the petals. 
Visit Succulents Box to get 15% off your purchase of
Graptopetalum Amethystinum
using this link.
The Graptopetalum superbum is a stunning lavender rosette. However, i
t can change from more white to more pink, depending upon sunlight and season. 
Furthermore, foliage has a powdery coating of farina or epicuticular wax. In fact, true to its Latin name, it's quite superb.
It is less apt to get too leggy, and in the sun stays pretty compact. Especially flat, as the face of the rosette lays wide.
Additionally, it can grow to 5 inches (12.7 cm) wide. Finally, this lovely species is native to Jalisco, Mexico.
Visit Succulents Box to get 15% off your purchase of
Graptopetalum
superbum
using this link.
The Graptopetalum superbum 'Variegata' is the variegated version on superbum. Of course the main feature is the fleshy purple leaves that open up so beautifully.
Visit Succulents Box to get 15% off your purchase of
Graptopetalum
superbum
using this link.
The Graptopetalum paraguayense is commonly known as the Mother of Pearl plant or Ghost plant. Absolutely, one of the most common Graptopetalums. Triangular, thick leaves hold excess moisture. Therefore, they can withstand periods without water. As a bonus, this Graptopetalum has beautiful trailing rosettes. Undoubtedly perfect for a hanging pot. Additionally, when grown in full sun, they will turn yellow-pink. However, if kept in shade, leaves will be bluish-grey. Furthermore, fleshy rosettes can grow up to 6 inches (15 cm) wide and up to 1 foot (30 cm) tall. Finally, flowers are white in color, with small red specks. Read more about Graptopetalum paraguayense Care here.
Visit Succulents Box to get 15% off your purchase of
Graptopetalum paraguayense
using this link.
Enjoy our Graptopetalum paraguayense Time Lapse Bloom video below.
Graptopetalum paraguayense 'Ghost Plant' vs Graptosedum 'Ghosty' Plant
The Ghosty Succulent is very similar to the Graptopetalum Ghost Plant. Although, you can differentiate by flower color. For example, 'Ghosty' has yellow and the Ghost Plant has white flowers. Additionally, I feel the Ghost plant grows a bit faster. Ghost Plant gets cool false variegation in the center of rosettes with light stress. The graptosedum 'Ghosty' also becomes etiolated faster in non-ideal conditions.
Graptopetalum macdougallii
The Graptopetalum macdougalii is a rosette-forming succulent. Fleshy, pointed, blue-green leaves have a waxy surface. Specifically giving it a silvery glow. Eventually, it will send out offsets. Forming a low, ground-hugging clump.
Additionally,
green flowers bloom in late winter or early spring.
Graptopetalum Pachyphyllum Blue Bean
The Graptopetalum Pachyphyllum Blue Bean is a hardy succulent. Chubby club-shaped leaves form clumps of small rosettes. Definitely, a low-maintenance plant. Indeed a cute miniature succulent with powdery blue-green leaves. Apart from this, tips turn dark purple in cold weather. Particularly easy to care for, grow, and propagate. Additionally, one of the few succulents that has a light pleasant smell. Furthermore, flowers are white-green and banded in dark red. 
The Graptopetalum
'

Ellen

' branches at the base to form upright colonies of fleshy pale silver-blue leaves. Furthermore, they can flush from dusty rose to

reddish with stress.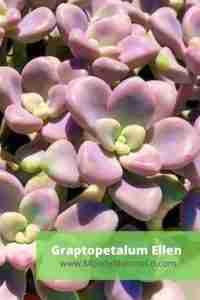 Graptopetalum bartramii, Patagonia Mountain leatherpetal, Bartram's stonecrop
Commonly called the Patagonia Mountain leatherpetal, Bartram's stonecrop, or Graptopetalum bartramii Rose. Leaves are cave, smooth, and blue-green. Graptopetalum bartramii is a small, perennial succulent. Additionally, yellow flowers bloom in summer. Specifically, with brown-to-red spots. Then, between September and November they will eventually open. Native to Arizona. In fact, it hasn't been discovered in any other U.S. state or territory.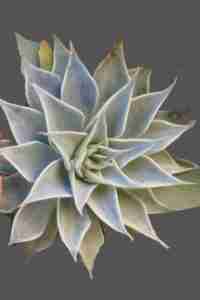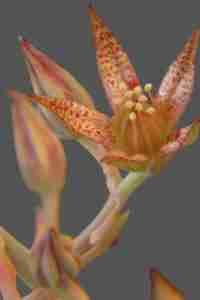 The Graptopetalum mendozae is a lovely spreading succulent. Rosettes of pale gray leaves take on darker colors in summer light levels. Additionally, flowers are small and white. In fact, in spring, they produce dainty sprays of miniature star-shaped blooms. Indeed, it is very easy to propagate from leaves or cuttings.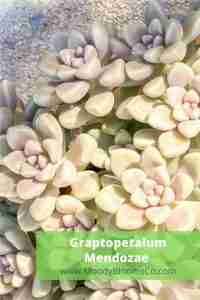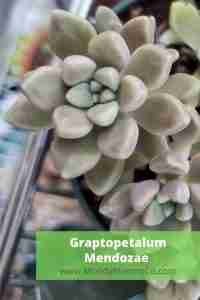 A gorgeous pastel rosette of bubblegum pink. Additionally, a powdery coating of natural wax. Specifically, protecting it in full sun and giving it a soft, pastel look. In fact, it resembles its parent plant,
Graptopetalum
superbum. Although, it has more rounded, upright foliage. Graptopetalum 'Murasaki' has vibrant hues of lilac, blue, and pink tones. Furthermore, these plants do well in partial direct sun. Finally, it grows up to 6 inches
(15 cm)
tall and 5 inches (12.7 cm) wide.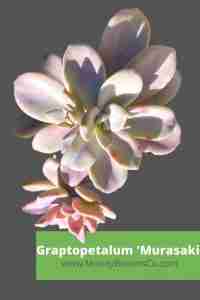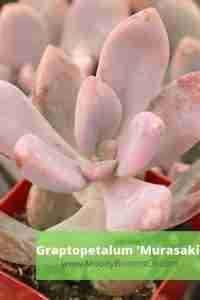 Graptopetalum 'Purple Delight', Graptopetalum Snow White
An elegant rosette succulent with stunning form and colors. In fact, depending on the conditions in which it's grown, 'Purple Delight' can display a range of colors. For example, shades of deep lilac to bubblegum pink to frosty white. Additionally, it has a powdery coating of natural wax to protect it in direct sun. Furthermore, it can grow to about 4 inches (10 cm) wide. Then, it continues to grow tall on a bare stem. Fortunately, this cultivar takes well to regular pruning and transplanting.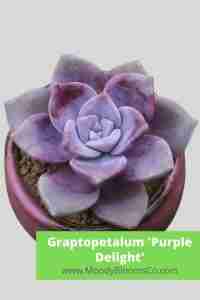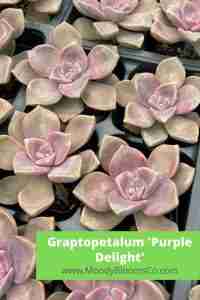 Graptopetalum saxifragoides
The Graptopetalum saxifragoides is a mat-forming succulent that forms dense rosettes of thick, pale green, or completely reddish leaves.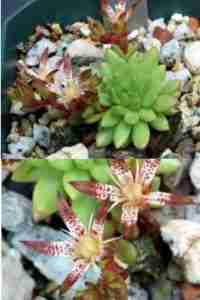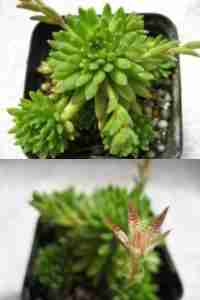 Graptopetalum bellum, Tacitus bellus, Chihuahua Flower
The Graptopetalum bellum is a small rosette forming succulent. Composed of dull, grey, or bronze leaves. Additionally, leaves are  glabrous, approximately triangular. In fact, rosettes are slow clustering and almost flat to the ground. 
This species requires more shade than the others of the family. Nevertheless, it is found near cliffs in the wild. Deep pink to red star-shaped flowers bloom from May to July. Furthermore, they have dark pink stamens and white anthers.
Graptopetalum amethystinum

Graptopetalum bartramii

Graptopetalum bellum 

Graptopetalum filiferum 

Graptopetalum fruticosum 

Graptopetalum glassii 

Graptopetalum grande 

Graptopetalum macdougallii

Graptopetalum marginatum 

Graptopetalum mendozae 

Graptopetalum 'Murasaki' 

Graptopetalum occidentale

Graptopetalum pachyphyllum

Graptopetalum paraguayense

Graptopetalum paraguayense subsp. bernalense 

Graptopetalum pentandrum 

Graptopetalum 'Purple Delight'

Graptopetalum pusillum 

Graptopetalum rusbyi "San Francisco River leatherpetal"

Graptopetalum saxifragoides

Graptopetalum saxifragoides var. fariniferum 

Graptopetalum superbum
Shop our favorite items!  As an Amazon Associate I earn from qualifying purchases. Furthermore, we may receive a small commission (at no cost to you). Additionally, this allows us to continue to produce free content. Thanks so much for your support!