Today I'm going to show you my new favorite way to propagate succulent leaves. There are not too many things cuter than a succulent baby. I have had pretty good success with just about every propagation method. Succulents are the gift that keeps on giving.
Here are some of my seed trays that I have used to propagate succulent leaves. I have also used just about every to-go container imaginable. Tupperware containers also work well for propagating succulents.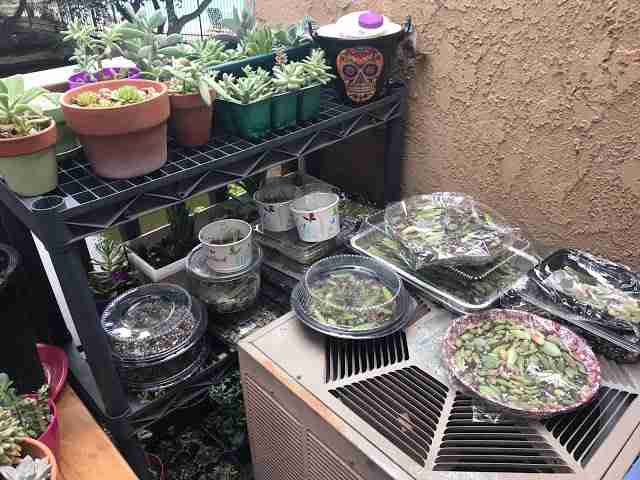 Check out my Succulent leaf Propagation video below!
Yes friends that is a Yogurtland container you see here! Don't judge, it actually works very well. I like to poke a few holes in the bottom and keep the plastic lids loose on top. It makes a great mini greenhouse.
Another option is to use a nursery tray that I lined with slightly damp paper towels. Then lay out your succulent leaves. Next, gently cover them with a thin layer of saran wrap.
All of these methods seem to work pretty well.
But I have had the best success with the method that I'm going to show you next.
The first thing you are going to want to do is get some type of a tray, flower bed, or floral pot. Really anything will work.
I like to use these 
aluminum trays because they are just the right
depth and inexpensive.
First, I poke several small holes in the bottom of the aluminum trays for drainage. This is optional, but I prefer the additional drainage. Then, fill the tray with succulent soil.
Next, I like to spray the soil with my FAVORITE spray bottle of all time.
Give it a couple pumps and then it keeps on spraying.
After you have sprayed the soil with water, cover with a layer of perlite. C
over then entire top of the succulent soil with perlite. In my experience I have found that it
prevents the leaves from rotting. It has given me the best success rate. 
**Optional** If you want to increase the speed of root growth you can dip the tips of the succulent leaves in a rooting hormone. Next, start placing the succulent leaves on top of the perlite. I like to alternate the leaves so the roots do not touch once developed. Leave the succulent leaves on the perlite and hold off on watering again until you actually see some root growth.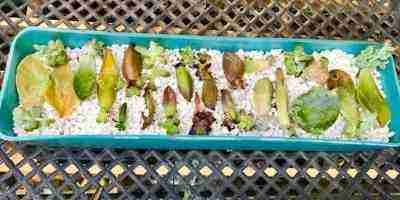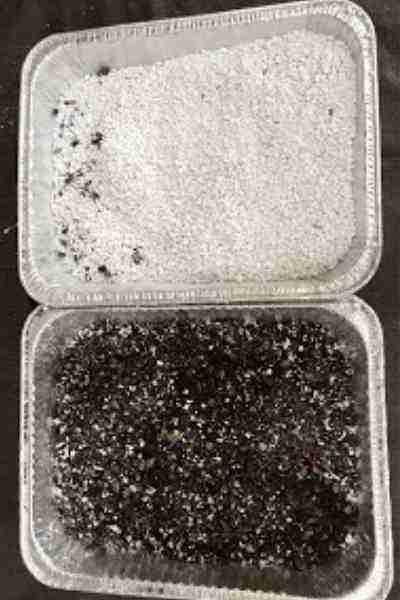 You want to be careful when selecting leaves from a succulent that you want to propagate. Select a really nice healthy leaf. Do not use
a dead squishy leaf.
Those just won't last. Unfortunately, they won't make it and they will rot really fast.
Choose leaves that are nice and plump. I also try to water the mother plant a day or two prior to pulling off a leaf. That way they have sufficient water in the leaf to help it survive.
You can also set your succulent cuttings on the perlite as well. Just make sure you let them callus over for three to five days before spraying them with water.
We leave the leaves on the perlite and mist with water every 2-3 weeks. Eventually the leaves will grow little babies.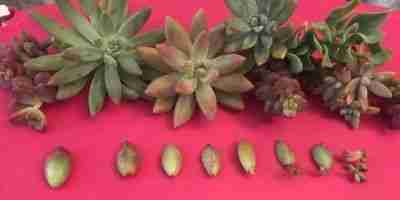 Above are some of the babies that we've been propagating and eventually the leaves will get really wilted like the last one above on the right. You'll also notice that once this dies completely that you'll get a little boost to the actual plant baby as well.
After they get bigger I will plant them together in little containers like these cute little mini pots below.
I just love planting babies in these adorable little pots that a friend gave to me.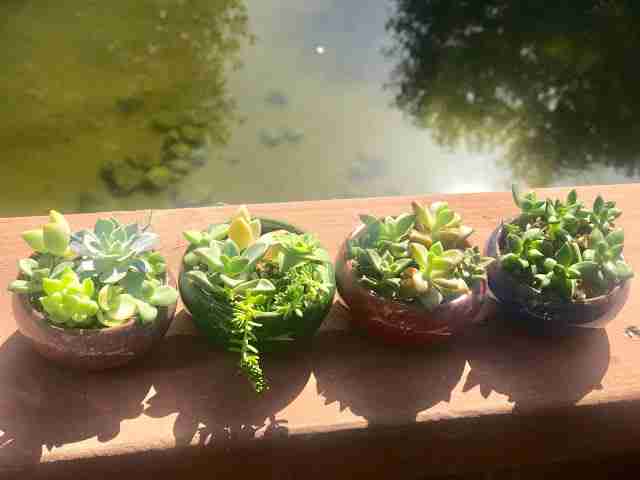 Okay guys here's a huge tip, that should be common sense. I completely forgot about this tray of succulent leaves and I left it in direct sun.
They were all sunburned and died. I was so sad. Keep out of direct sun. Only established succulents can handle full sun.
There you have it! My new favorite way to propagate succulent leaves with the best success rate.
Shop our favorite products!
Join our email mailing list
Sign up for the MoodyBloomsCo.com blog alerts and once subscribed, I will send you a notification when a new post has been made.
Support Moody Blooms by using the affiliate links to shop. We receive a small commission (at no extra cost to you) so we can continue to create helpful free content. Thank you, we appreciate it!