If you have a plant addiction like me you may want

to visit your local 99 Cents Only Stor or discount dollar store to save you some cash on your

planting supplies. 

On a recent visit, my local 99 Cents Only Store had small succulents for only .99. There were plenty to choose from too. The larger succulents were $1.99. Be sure to check with the cashier to be sure. As sometimes the price displays are in the wrong spot.
They also carry Petunias, ornamental grasses, other flowers, soil, pots, garden supplies and lucky bamboo. Lucky Bamboo is great for low light areas or an office. Below are some of my favorites that I picked up at the 99 Cents Only Stores.
This succulent has leaves that range in color from pale blue-green to silvery-grey. The long leaves grow outward and then curl back towards the stemless rosette. It grows very quickly, and is easy to propagate. Watch for orange and yellow flowers usually in the late summer or early Fall.

Also known as "Mexican Hens & Chicks", this Echeveria

can produce new offsets or "chicks" around the base of the mother plant. These chicks can be left to form a tidy cluster or removed and transplanted.

Allow the offsets to dry for one to two days before replanting. 
Runyonii Echeveria

 

can be propagated from stem cuttings or mature leaves.

Topsy Turvy is a great choice for succulent arrangements, rock gardens, as it adds unique textures. It is also lovely for borders or stunning by itself. It prefers very warm climates. Typically zones 9 through 11. If you live in a colder climate then grow it in a container and be sure to move it indoors in colder months. Learn more in our Topsy Turvey Care Guide here.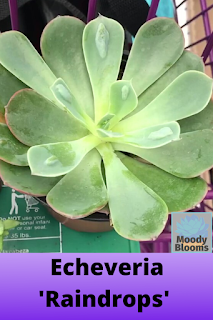 Echeveria 'Raindrops' is a stunning hybrid from the famed echeveria hybridizer Dick Wright.

It gets it's name from the round droplet-like bump that it develops as it matures. Not all young 'Raindrops' have bumps, but they will develop with time. Outdoor shade will produce the best bumps, but direct sun will tinge the bumps and margins a lovely shade of pink.

Echeveria's

need bright sunlight to maintain their colors and compact rosette form. They will not survive a hard frost. If there is a risk of freezing temperatures Raindrops can be brought indoors. Grow on a sunny window sill or under a grow light.
Aeonium 'Kiwi Verde' is one of over 35 different aeonium species. Kiwi Verde does not like to be too hot and dry, unlike most succulents. If the leaves curl it is a good sign that your plant is getting too much extreme heat. It does this to prevent water loss. They prefer the shade or morning sun. Indirect light is best. This succulent will not tolerate frost. In colder climates it is best to bring inside in winter and grow as a houseplant.  The Kiwi Verde is dormant in summer and their growing season is from winter to spring. Learn more care instructions here.
Crassula Tetragona 'Miniature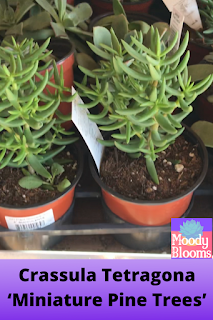 The Crassula Tetragona 'Miniature Pine Trees' or also known as the Chinese Pine is a wonderful succulent. It adds great texture and height to any succulent arrangement. This

Succulent has spiky green leaves that curve upwards. It gets its name from its pine tree-like appearance. Crassula Tetragona also makes a lovely  bonsai plant. You will just love this easy grower. It produces cute white blooms in the late spring and early summer.
Shop our favorite products!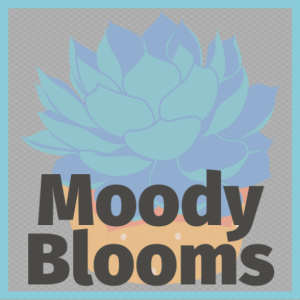 Join our email mailing list
Sign up for the MoodyBloomsCo.com blog alerts and once subscribed, I will send you a notification when a new post has been made.
Support Moody Blooms by using the affiliate links to shop. As an Amazon Associate I earn from qualifying purchases. Additionally, we receive a small commission (at no extra cost to you). Therefore, we can continue to create helpful free content. Thank you, we appreciate it!