Disneyland Plants & Succulents
Disneyland Plants & Succulents are almost as exciting to me as the rides. When you think of Disneyland most people think of iconic rides such as Small World or Thunder Mountain Railroad. Of course one of my favorite parts of Disneyland, California Adventure and Downtown Disney is the landscaping. 
Featuring over 125,000 flowering plants, shrubs and 18,000 trees that are strategically planted throughout the park. There are more than 3,000 species of plants indigenous to 40 different nations growing. The resort is one of the largest gardens in Southern California and one of the most diverse botanical locations in the western United States.
The tram from the Mickey & Friends parking structure is the first introduction to the magic of Disneyland's botanical world.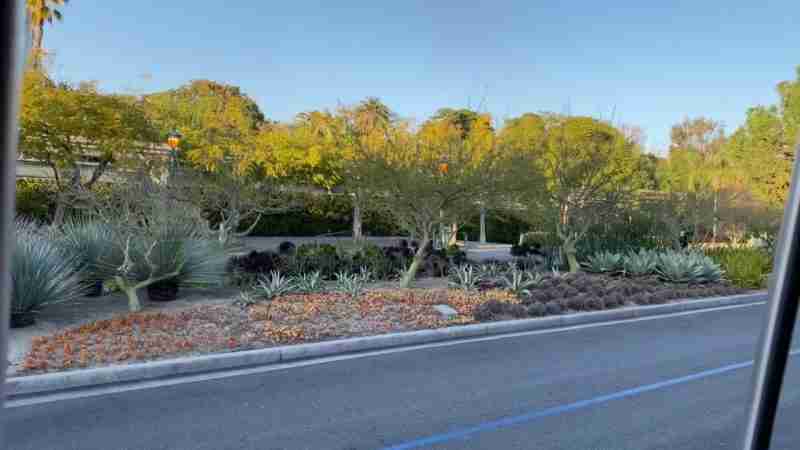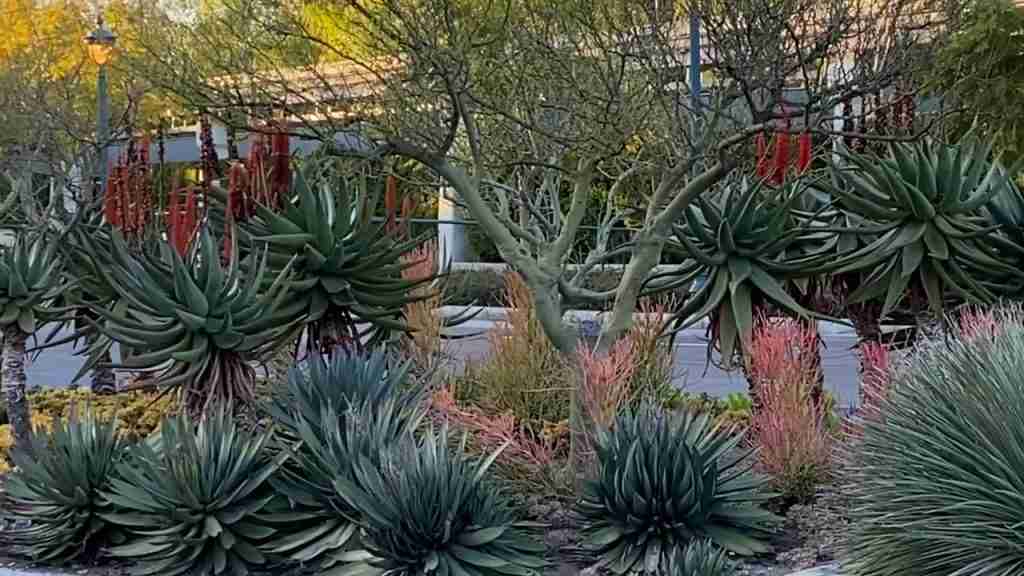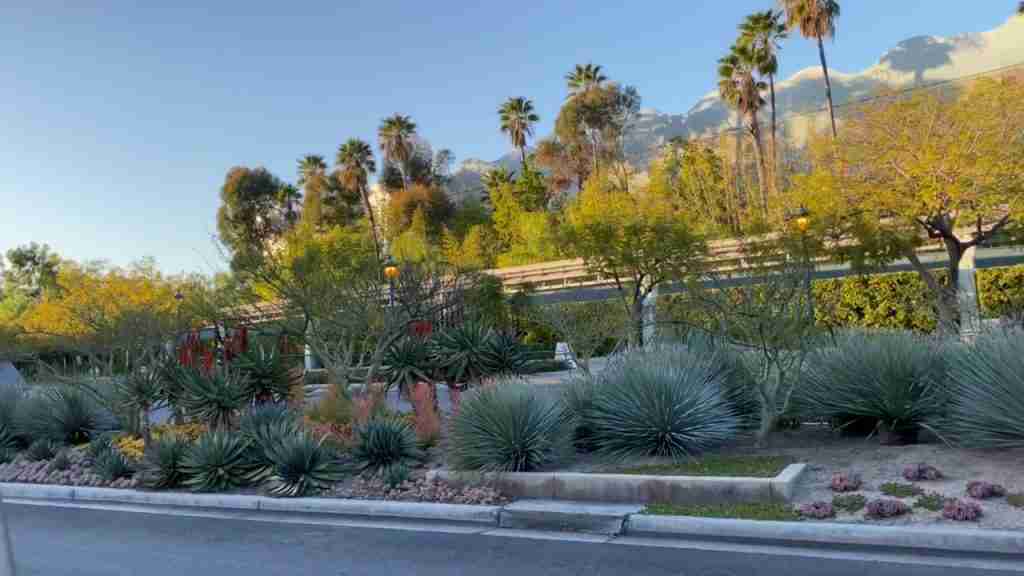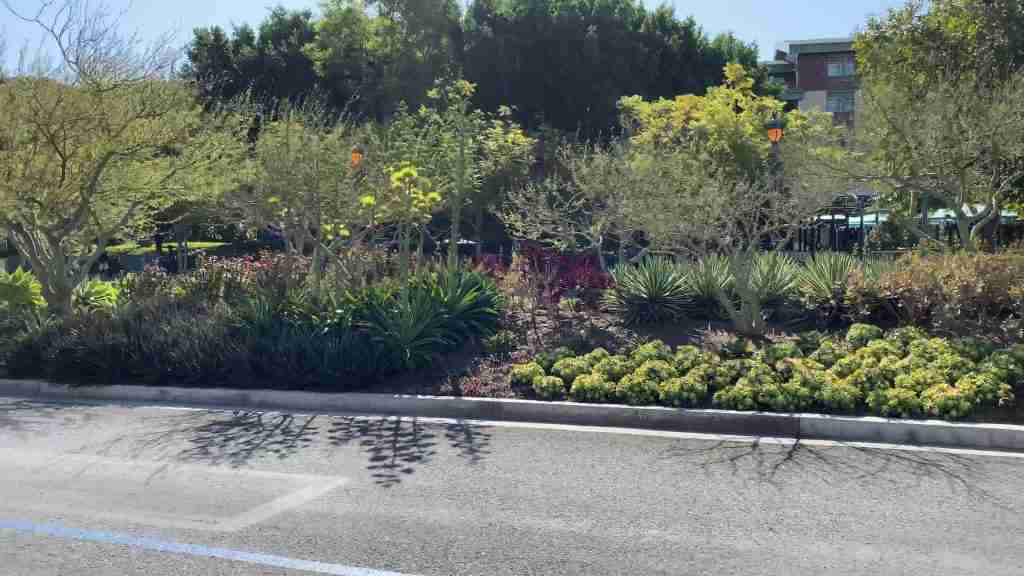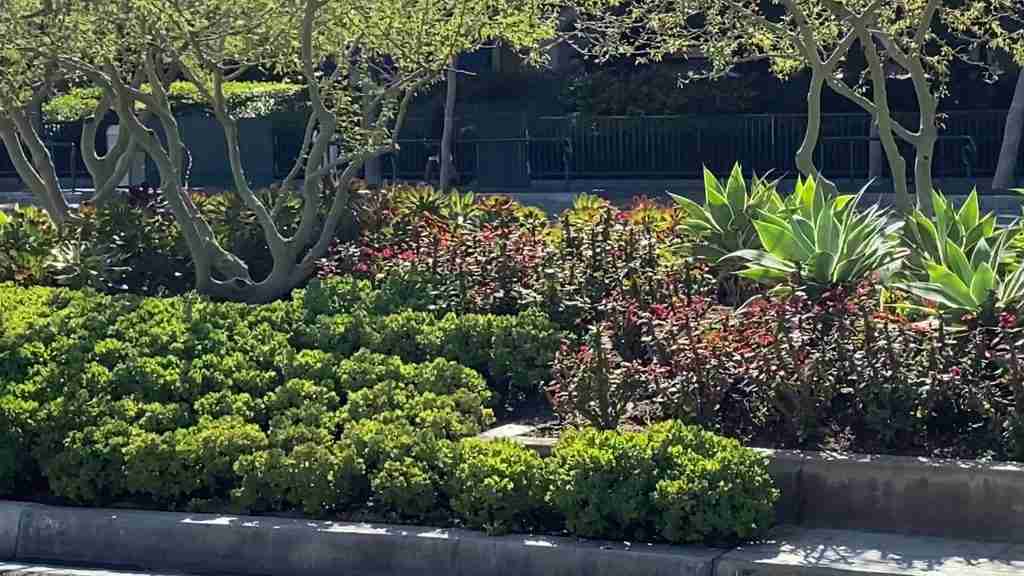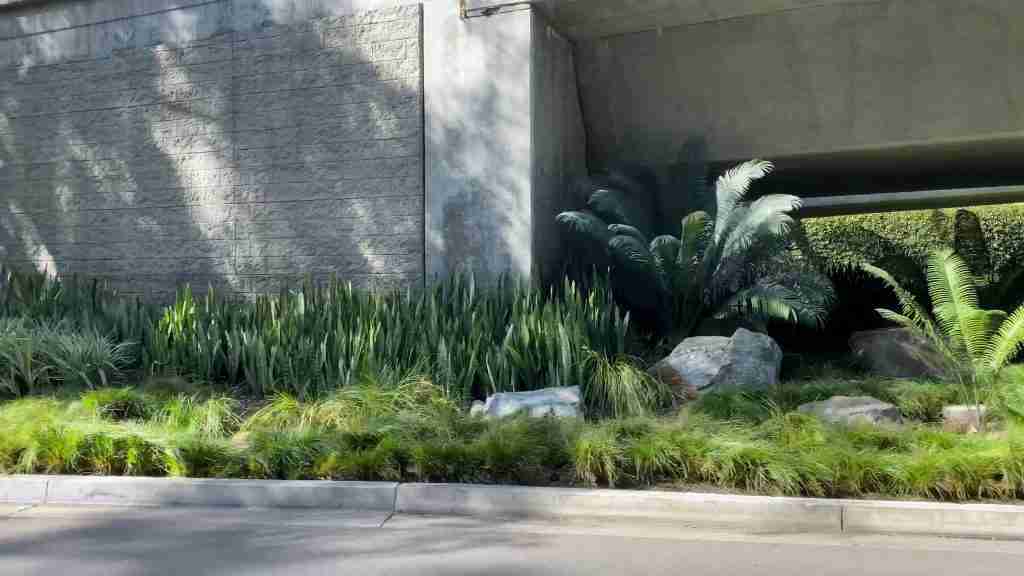 Mickey Mouse Floral Portrait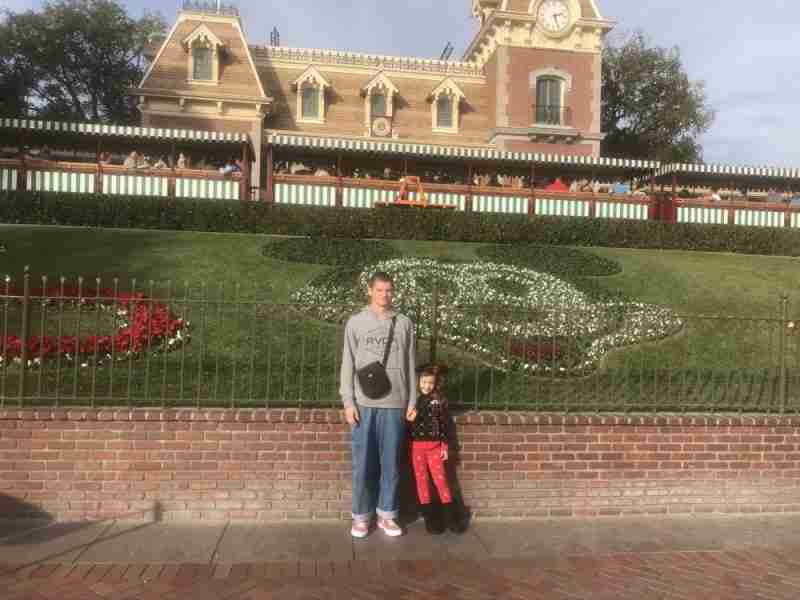 As you enter the Disneyland park you encounter the iconic Mickey Mouse floral portrait that has been around since opening day on Sunday, July 17, 1955. 
Made entirely of flowers and one of the most popular photo locations in the world. It is replanted up to eight times a year for the seasons and holidays. Mickey Mouse's face holds approximately 5,300 individual plants, not to mention the additional 2,000 plants on the sides of the flowerbed. We are talking about more than 58,000 plants a year, just in the Mickey portrait!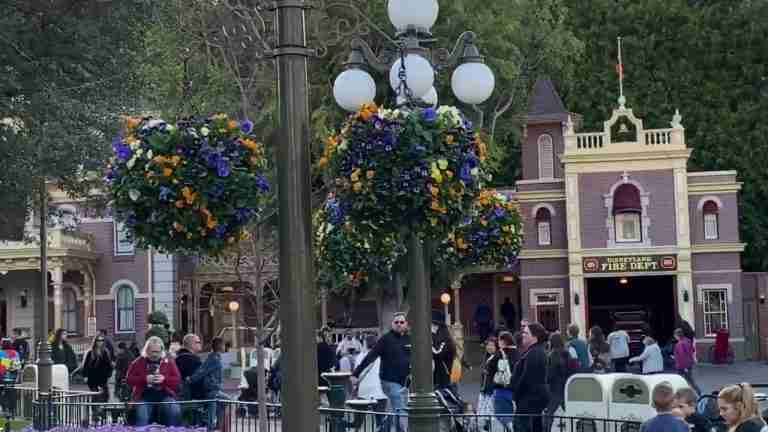 The next stop is the Victorian themed Town Square. Above the Fire Station is Walt's Disney's private apartment. A lit antique lamp in the window would inform staff when Walt was in residence. Today, the lamp remains permanently lit as a tribute to Walt Disney and to symbolize his continuing presence at Disneyland. The flowers and plants in the Town Square are changed to coincide with the seasons.
Disneyland Town Square Flowers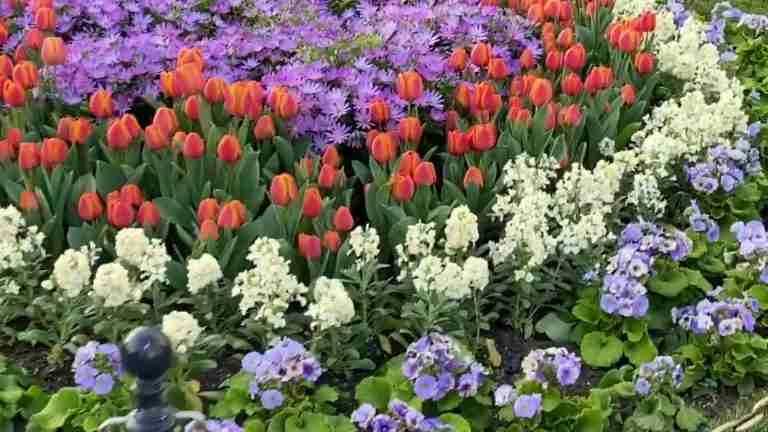 They typically have pastels in the spring, patriotic colors in July, bright summer colors in August, warm fall colors during Halloween, and bold reds and whites for the holidays.
Disneyland succulents & Plants with secrets, Characters, and fun facts in our video below!
Disneyland took only a year to be built at a cost of $17 million. This was 3 times the projected estimate. Opening day was a bit of a fiasco and was referred to as "Black Sunday". Over 28,000 guests arrived, which was more than almost double the number that were actually invited. Counterfeit tickets were to blame for the unexpected crowds.
Another issue was the asphalt was not fully cured. This was one of the hottest days of the year and some of the women's high heels were sinking into the asphalt. There were also not enough bathrooms and plumbing was not completed for the drinking fountains in time for opening day. In spite of the unsuccessful opening, Disneyland has continued to provide a magical experience for more than 750 million guests.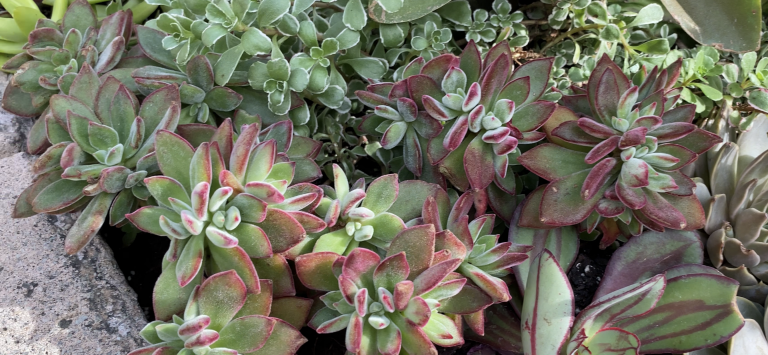 Gardeners and landscape experts known as the "

Disneyland Horticulture and Resort Enhancement Team"

work mostly behind the scenes when t

he park is closed. 

90% of this team of approximately 100 cast members, work the third shift beginning at 2:00 AM. The horticulture cast members have expertise in landscape design, installation and maintenance, arboriculture, landscape irrigation, integrated pest management, and project management.
All the landscaping at Disneyland is sketched and designed in advance to tell a story of each land and attraction with the help of Walt Disney Imagineering. Although their goal is to make the landscaping blend in as much as possible. There are over  80 miles of underground irrigation piping managed by 20 irrigation cast members who make sure plants are being watered properly and efficiently. 
Disneyland displays approximately 500

hanging baskets

throughout the resort. They are typically filled with seasonal plants and flowers.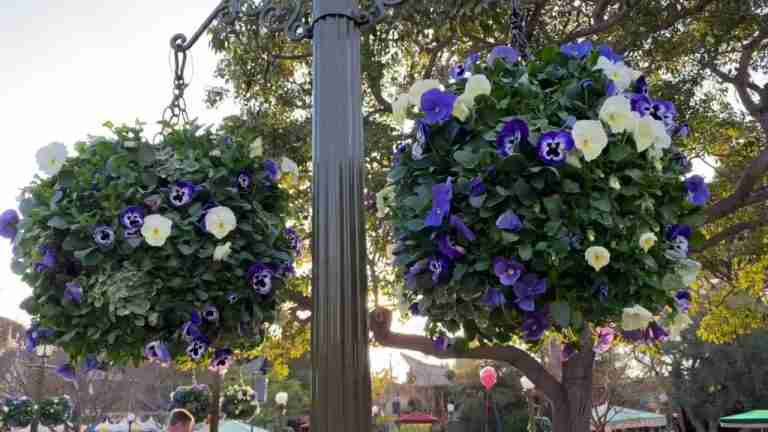 The park employs three full-time florists who are responsible for making
and maintaining all 500 hanging flower baskets that change with the seasons.
Main Street, U.S.A., was inspired by Walt Disney's hometown of Marceline, Missouri.
The gas lamps
along Main Street are actually authentic antique street lamps from Baltimore and Philadelphia and are over 150 years old.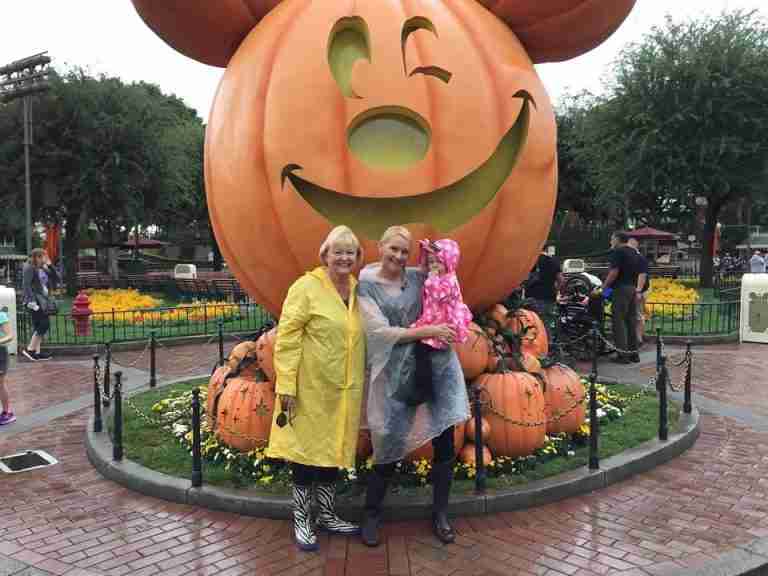 In Autumn, Main Street transforms into a  Pumpkin Festival with hundreds of pumpkins on display and no two of them are the same.
Disneyland Christmas Tree
To kick off the holiday season in November, Disneyland displays a massive Christmas tree on Main Street.
It is huge towering at 60 feet above ground and five feet below ground. This beauty has approximately 1,200 branches, 250,000 pine tip ends, over 2,000 ornaments, 800 handmade bows, 4,800 multi-colored LED lights, 70,000 white mini LED lights, and 1,200 strobes.
In addition to the stunning tree on Main Street, the park is decorated  with an additional 200 trees, 320 wreaths, 8,000 feet of garland, almost 10,000 poinsettias, and 10,000 cyclamen during the holidays.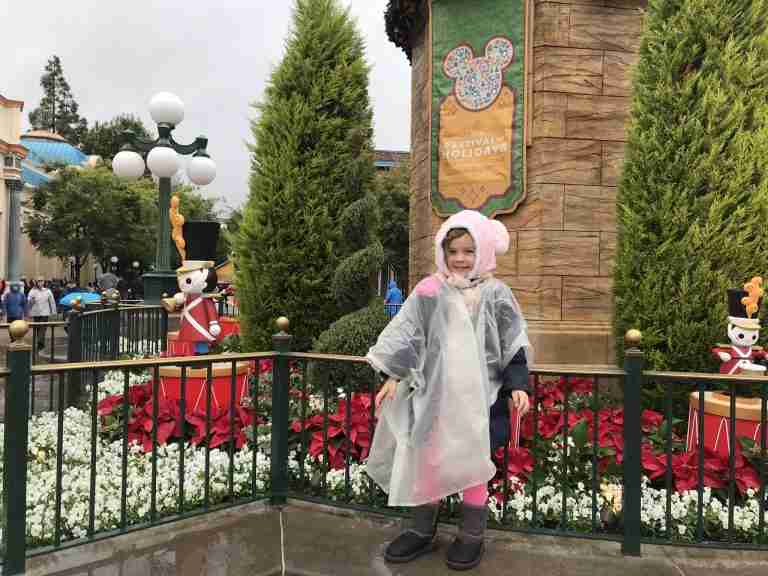 Disneyland wants its guests to feel like they are in another world and of course the landscaping plays a huge part in creating that feeling. The resort has several succulent displays that are artfully crafted all over the park. In addition to being beautiful and diverse, they are drought friendly – this is huge, especially here in Southern California. 
Succulents require 90% less water than traditional plants and are a perfect fit here as we experience less rainfall than other parts of the country. Disneyland is always on the lookout for new ways to conserve water.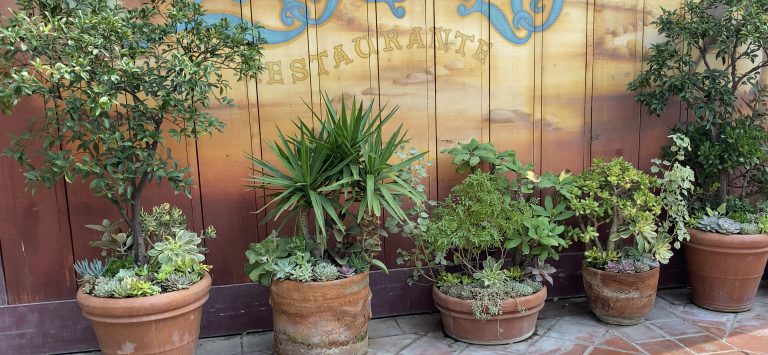 Rancho del Zocalo Succulents
Some of my favorite Disneyland succulent planters can be found in Frontierland in front of one of my favorite Disneyland restaurants, Rancho del Zocalo. The Spanish style decor perfectly incorporates succulent container gardens. I absolutely love the variegated aeoniums.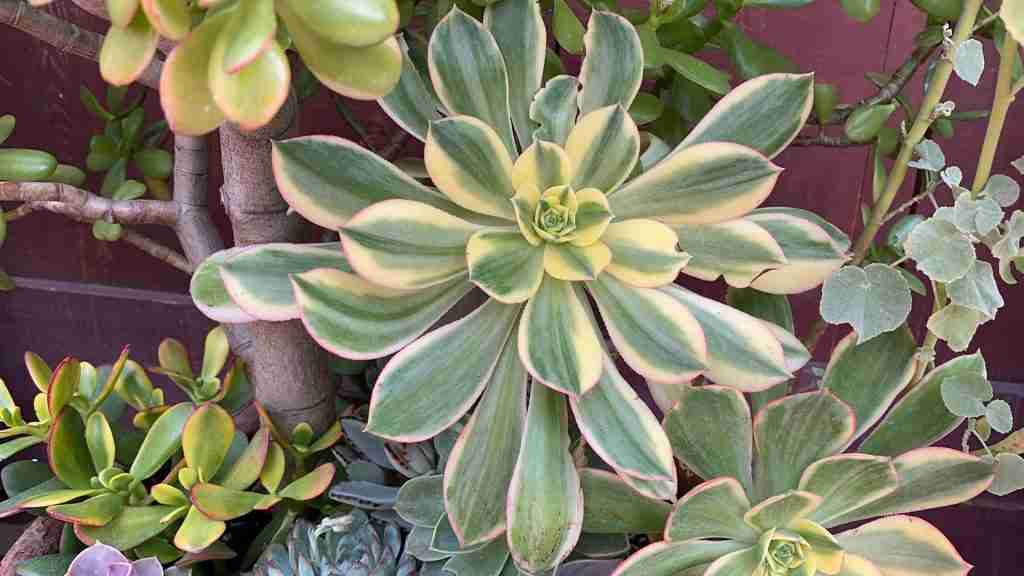 There are 25 topiary animals and characters at the Disneyland Resort — including 21 at Disneyland Park, one at the Disney California Adventure Resort and three at the iconic Disneyland Hotel. Several of these topiaries are located in front of It's a Small World ride at Disneyland. It takes over five years to grow just one of these living sculptures. The other plants in front of the ride are designed to remind guests of water.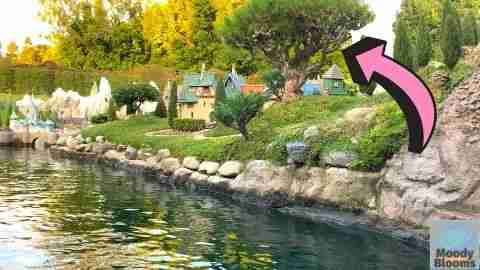 A Mugo Pine is the oldest living tree at Disneyland and is only about three feet tall. You can find this ancient tree that is more than 150 years old, as you cruise on the Storybook Land Canal Boats in Fantasyland. The ride begins by going inside Monstro the whale who swallowed Pinocchio's Father.
Storybook Land ride has so many gorgeous succulents and gardens that represent classic Disney tales. Sedums, Crassulas, and Echeverias, are perfectly incorporated into the miniature garden scenes of iconic storybook tales. So much detail even though the scenes are created on a 1:12 scale. All the windows and doors in the miniature villages actually open too. Did you know the
Storybook Land canal contains around 465,000 gallons of water?
The succulent garden section below was inspired by the quilt from Lullaby Land. This was a Silly Symphonies animated Disney short film released in 1933.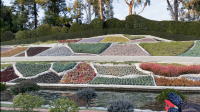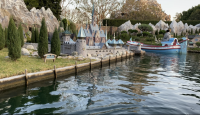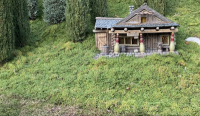 Snow White & the 7 Dwarfs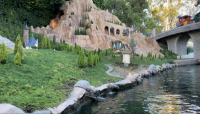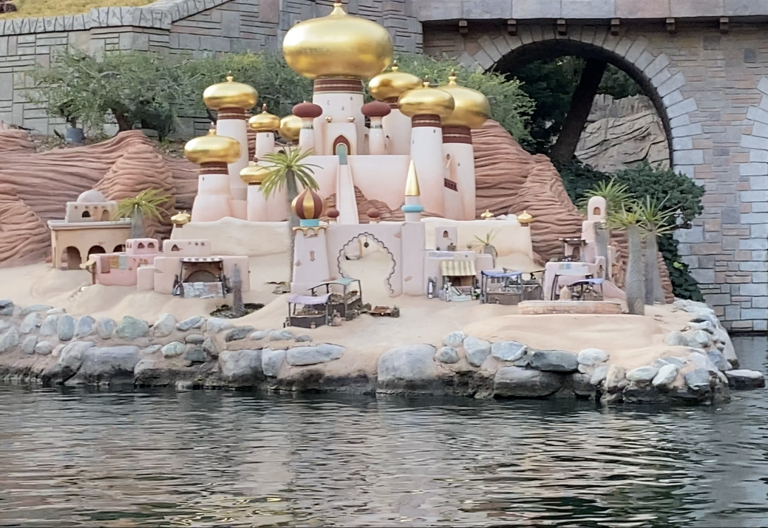 The Adventures of Ichabod and Mr. Toad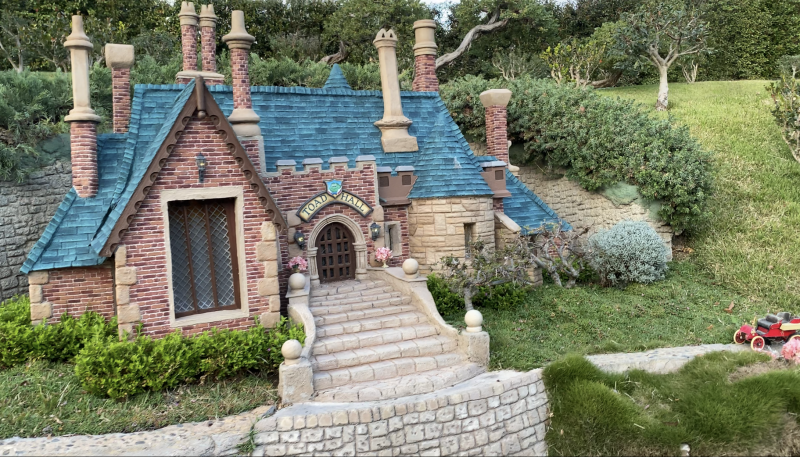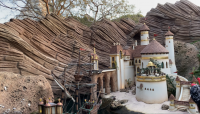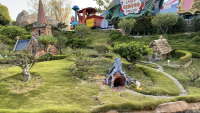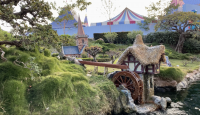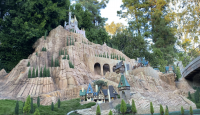 Most of the plants in Tomorrowland are edible. According to Disneyland, "the visionary landscaping doubles as a potential farm, projecting an ecologically astute future, where humanity makes the most of its resources". As tempting as it may be, Disneyland prefers that you do not eat their landscaping. 
Tarzan's Treehouse
Tarzan's Treehouse which was originally the Swiss Family Robinson Treehouse is named the Disneydendron semperflorens grandis by cast members. It means a large and ever-blooming Disney tree. The tree is made of cement, stucco and other man-made materials. Look closely and you'll see there are thousands of individual leaves on the tree that make it look real. Near the end of the attraction you can find Mrs. Potts and Chip from Disney's Beauty and the Beast in the children's play area. 
Supposedly Walt Disney was quoted regarding the last-minute rush to finish things up before the original opening of the park in 1955. He said that they hadn't completed the landscaping and money was getting tight, so he had the legendary architect Bill Evans run out and label all of the small plants and weeds in latin. If you are wondering if any still exist in the resort today, there are actually a few at the base of Tarzan's treehouse. Made out of bamboo halves, they are used as a part of the attraction. 
About 1 million annuals are planted each year at the Disneyland Resort, adding color and vibrancy to the decor. There is a backstage nursery where new plants are stored and grown. Some plants are grown for years so they look mature when placed in the park. 
Dominguez Palm
Another tree with a lot of history at Disneyland is a Canary Island Date Palm that was planted on the original land in 1895. The Dominguez family were the original owners of the 10 acre orange groves where the Disneyland Resort is now located. The tree fondly known as the "Dominguez Palm" was originally presented as a wedding gift to members of the Dominguez family.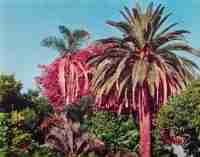 It is over 100 feet tall and was located in the Dominguez family's front yard. Walt Disney fulfilled a promise to the family to keep the original tree on the property. The family home once stood where the Pirates of the Caribbean and Cafe Orleans stand today. The original house was moved behind Main Street, to be used as administrative offices. Disney purchased the land for $879,000 in May 1954. Anaheim was picked because Orange County offered the least rainfall, least humidity, and least extreme temperatures of any other options.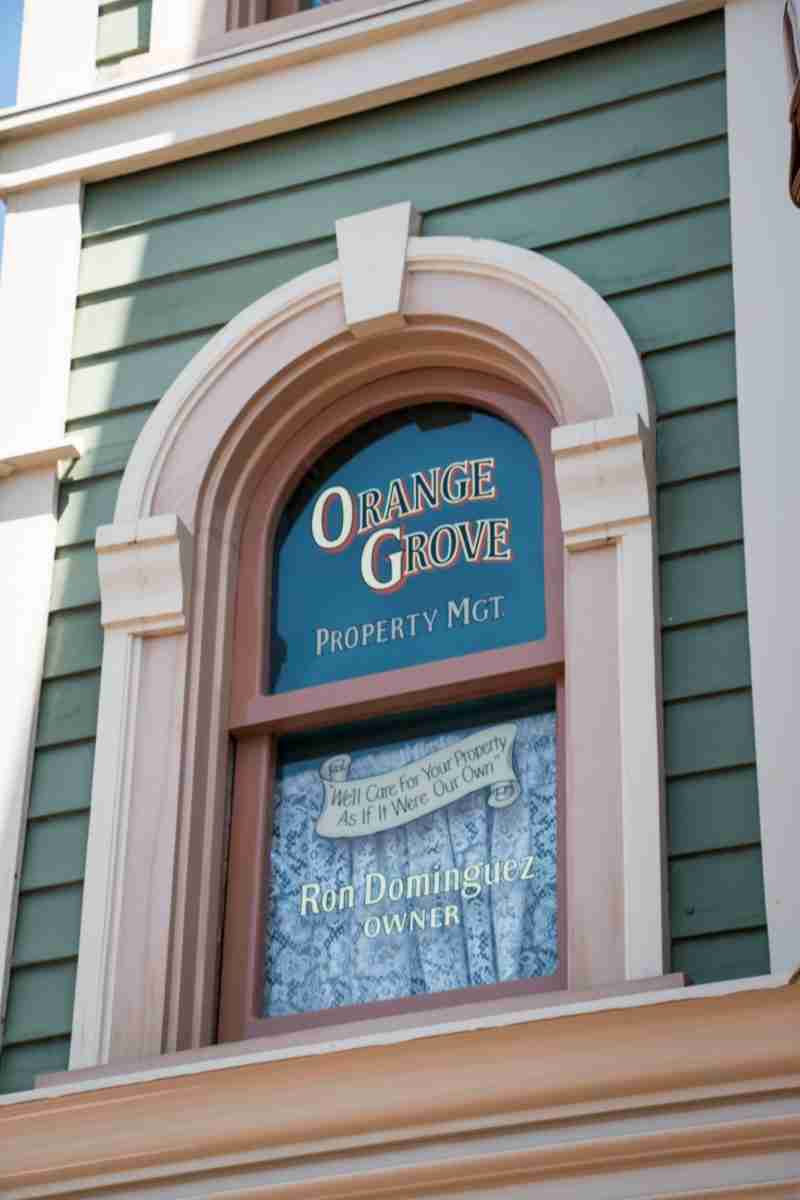 While on

Main Street

take a look above the Market House (AKA Starbucks) at the window inscription. It reads: Orange Grove Property Management and "We'll care for your property as if it were our own" Ron Dominguez – Owner. Ron's maternal grandparents owned the land that Walt Disney purchased to build the theme park and Ron was in fact was born and raised on the land.
He also worked
as a Disneyland ticket taker on opening day and would eventually rise to the position of Executive Vice President of Walt Disney Attractions. In his later years with the company Dominguez worked to bring about what is now Disney's California Adventure. Dominguez retired in August of 1994 after 39 years as a Disney employee.
The Little Man of Disneyland
When Disneyland was first being built, many local residents were concerned about the orange groves being removed in their community. 12,000 orange trees had to be removed, although some of the trees were kept on the property. Disney published a book called "The Little Man of Disneyland" which tells a story of a Leprechaun named Patrick Begorra. He was losing his home built on the roots of an orange tree in Anaheim.
Mickey, Donald and Goofy take Patrick to Disney Studios and show him the plans for Disneyland's development. Patrick eventually agrees on one stipulation….that he can build a new home in Disneyland, a "snug little house" and live there quietly. It came time for Patrick to find his new home in a new Disneyland tree. For many years Patrick's home was down by the docks near the Jungle Cruise, but one day it disappeared. 
On Disneyland's 60th anniversary in 2015, Patrick's house was relocated. The Little Man of Disneyland's house is now located near the Indiana Jones Adventure ride. If you cannot locate it, you can always ask a cast member for the details. 
Cultivating the Magic
The resort offers a guided tour called "Cultivating the Magic" that lets you experience the story of Disneyland park as told through the plants. You will learn about the landscapes and gardens that have transformed 260 acres of orange groves into Disneyland park. It's not just pointing out plants – you discover how horticulture is used to tell a story and how it helped achieve Walt Disney's vision for his original Magic Kingdom. 
On your tour, you will also experience the historical significance of trees that you may have walked past dozens of times in past visits to the park. Theme park admission for Disneyland park is required to attend the tour. The tour is approximately approximately two hours long and leaves from Disneyland park Tour Gardens (left of City Hall) on Saturdays and Sundays at 9 a.m. and Mondays at 10 a.m. All guests who participate receive a collectible souvenir pin and exclusive seed packet. 
We hope you enjoyed learning more about Disneyland Plants & Succulents!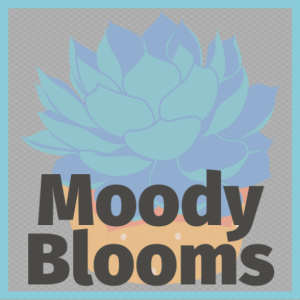 Join our email mailing list
Sign up for the MoodyBloomsCo.com blog alerts and once subscribed, I will send you a notification when a new post has been made.
Support Moody Blooms by using the affiliate links to shop. As an Amazon Associate I earn from qualifying purchases. Additionally, we receive a small commission (at no extra cost to you). Therefore, we can continue to create helpful free content. Thank you, we appreciate it!